Would you like to learn more about the animals we have in school?
Keep up to date with the developments on our school farm.
The Pigeons
Our latest arrival on the farm is a flock of four Tippler homing pigeons. They are very comfortable in their brand new coop and will soon be ready for their first flight. Our pigeons need fresh water and some pigeon corn every day, but not too much - we need them to keep coming home for tea.
The Goats (Dudley and Nemo)
On Tuesday 24th November 2015, Mr Backhouse took some of the Food for Life Ministers on a visit to Graves Park to look at our new goats. We now have our Anglo Nubian pygmy goats in school. They enjoy fresh hay and water daily and are very playful. One of their favorite games to jump on and off the picnic table in their pen. Some of our children enjoy taking the goats for a walk round the school field at lunchtime but we all have to be careful of their horns.
The Chickens (The Featherbabes)
Every morning members of the Farming Team go and let the chickens out of their coops. They carry out a regular health check to make sure the chickens are well. After this, they feed the chickens with Layers Mash (they love it!) and fresh water. Then comes the exciting part...collecting the eggs. Our chickens lay us eggs, however sometimes they lay less due to the change in daylight. We sell the eggs to members of staff and use the money to buy the chickens their feed and bedding. We have had our chickens for over 3 years now and we've even hatched some of our own. That's incredible isn't it! Every now and then the vet comes out to check on The Featherbabes and talks to us about the chickens.
We have recently fertilized our very own eggs to increase our hen numbers. The new hens are settling in nicely and are giving us more eggs every day.
Terry (the Yellow-Bellied Turtle)
Terry is a very interesting turtle. Every day he is fed with his favourite food, including shrimps. He sits quite often on his rock watching us all going in and out of the hall. Terry is cleaned out weekly and this has to be done carefully and sensibly.
The Guinea pigs (Tom and Bob)
Bob and Tom are cute and fluffy. They are our most recent guinea pigs and get a lot of visitors in the Year 6 corridor. Surprisingly they also make the most noise.
Our Guinea Pigs go absolutely crazy for vegetables and fruit the live in an indoor hutch but love to sit outside in their run during the summer.
These are quite easy to look after and don't take to much of your time however they are now confident unlike when we first got them.
They are fed and watered plus their bedding is changed regularly so that they are comfortable. Tom and Bob go home every weekend with children who sign up to a rota.
New Animals In School - March 2017
Our school welcomes some new animals to our corridors.
We have kindly been donated a pair of female guinea pigs - welcome to our school Hazel and Gizmo. Check out the photos of them below.
Mrs Vernon has also purchased some stick insects which can be found in the tank in the hall. Check them out - can you find them?
Let Mrs Vernon know if you would like to look after any of our animals over the weekends/holidays.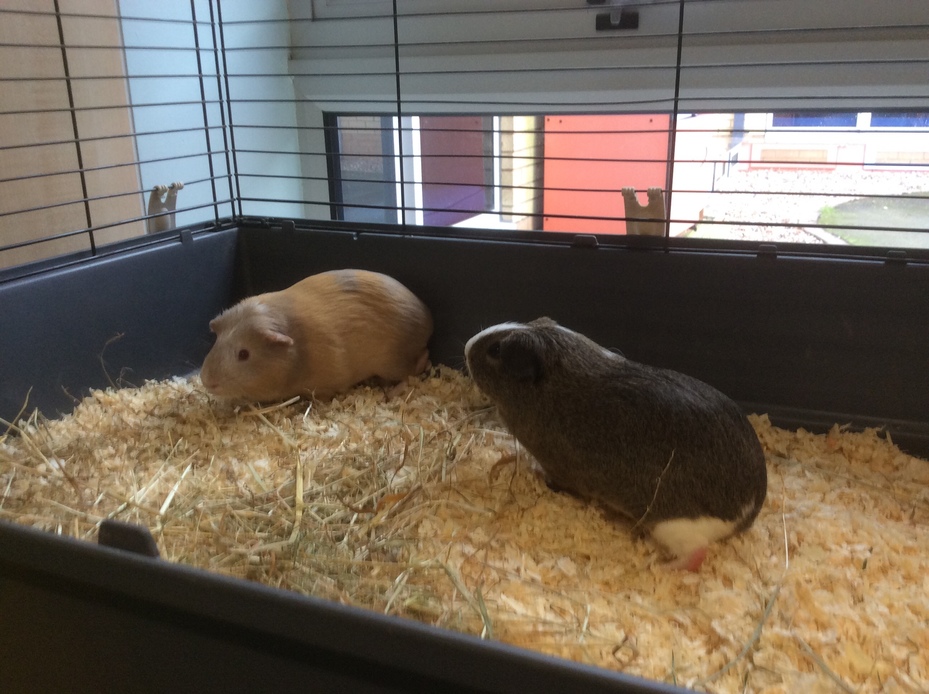 The Hamster (Elf)
Elf is a naughty hamster. He doesn't like to be woken up too early in the morning but he always comes to see us at the end of the day. He is fed every morning as well as being provided with fresh water. Elf likes a treat every now and then and at night time-when we've all gone home- he starts his exercise on his wheel. It's been reported from some children that Elf likes to wake you up in the middle of the night by running around in his wheel. We've also been told that he likes to chase you when he is put in his ball and left to roam on the floor.
The Pigs (Smokey and Jet)
Smokey and Jet love their food especially bread, apple and leftover pasta from school dinners they can gobble it up in no time.Then if it is hot they will go down on a trip to the mud-bath at the end of the pen and have a little swim. If it is hot, we usually put water on the floor and they will sun-bathe it is funny and cute! Jet can fit in the water trough and will rinse himself off but Smokey can't. In winter they will snuggle up in the stay - we also take these monkeys out on a walk sometimes however when it is to loud they get scared and run off.