Previous Food for Life related events and information:
Our entry video for the School Food Achievement Award. More can be found on the tab under 'Food for Life > Food Achievement Award':
Big Lottery Fund
Check out the Big Lottery Fund's latest article on healthy eating and wellbeing in which they feature our school's successes here.
Mothers Day Baskets - March 2017
We have Mothers Day baskets on sale from our Gardening Team.
Let the school office know if you would like to purchase one.
Food for Life Course - March 2017
We had the pleasure of hosting another Food for Life at our school this week - Derbyshire Food for Life came to host a Plot-To-Pot course to a range of Derbyshire schools. The feedback from the visitors were extremely positive.
We look forward to hosting again in the future!
New Animals In School - March 2017
Our school welcomes some new animals to our corridors.
We have kindly been donated a pair of female guinea pigs - welcome to our school Hazel and Gizmo. Check out the photos of them below.
Mrs Vernon has also purchased some stick insects which can be found in the tank in the hall. Check them out - can you find them?
Let Mrs Vernon know if you would like to look after any of our animals over the weekends/holidays.
In The Media - February 2017
Check out our school featured in the latest Derbyshire schools menu for winter 2017. Click on the images to view the article.
Year 5 Family To Lunch Day - January 2017
School Visits - November 2016
We have played host to a range of visits so far this year from a range of schools and organisations who came to observe our school's successes around Food for Life and Family Dining. Visits have included the following:
Angela Bebbington + 1 = 1 Derbyshire FFL
Jane Sixsmith from Food for Life
2 x Russums
Lisa Didier - Leicester FFL x 9 - Sandfield Close Primary, Avenue Primary School
Whitecoates Primary Academy (6 x people - SLT and 5 MTS)
Whitecoates Primary Academy (2 x people - Kitchen Staff)
Roast Dinner Day - November 2016
Thank you to all who attend our Roast Dinner Day on Wednesday 2nd November. We had over 15 families attend with some extra special surprises from Derbyshire Food for Life and Russums Catering supplies.
Keep an eye out on the 'Key Dates' section for information on our next Family To Lunch Day in February.
Fertilised Eggs - May 2016
Check out our new addition to the staffroom...we are currently incubating our very own fertilised eggs to add to our hen numbers on the school farm. Keep an eye on our Twitter page for daily updates.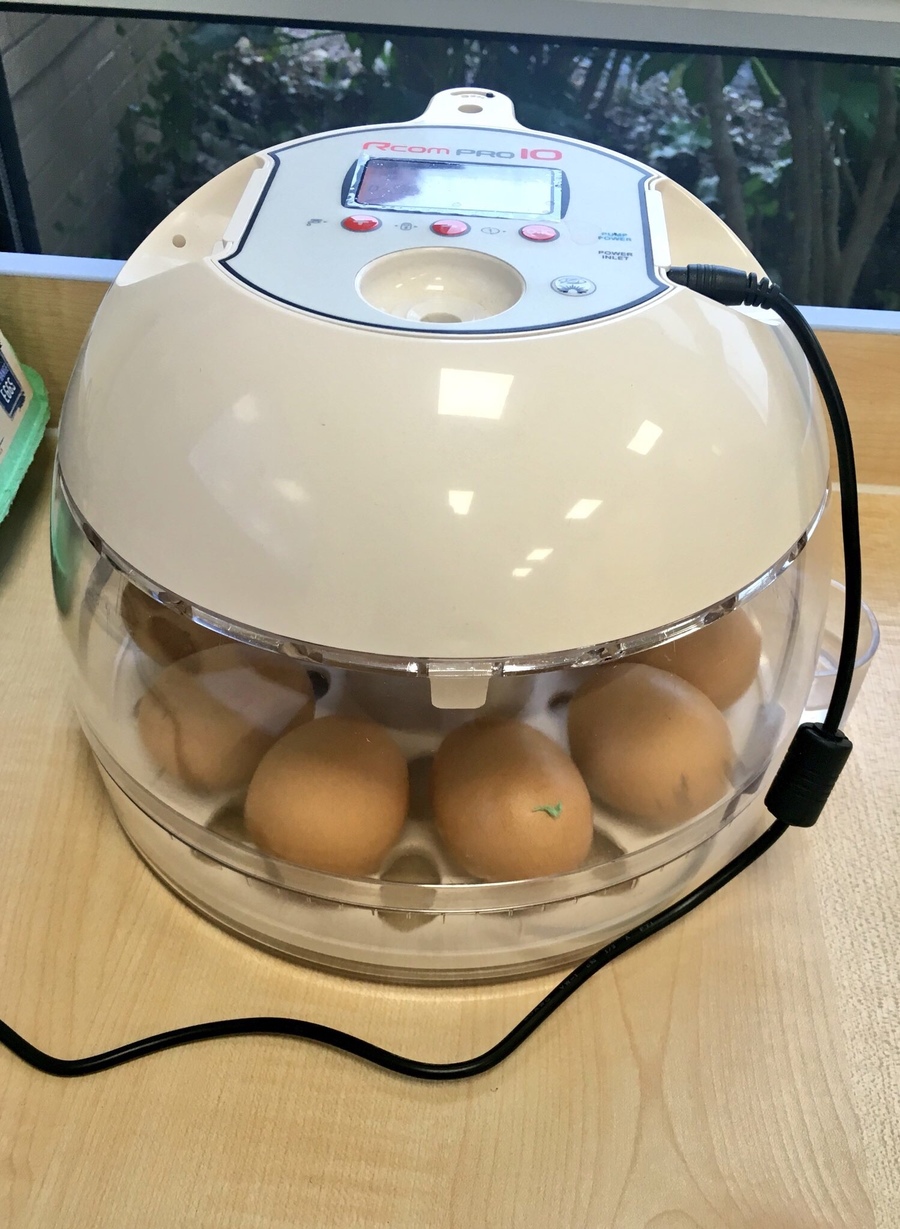 Raymon Blanc Restaurant Visit - April 2016
As part of winning the first ever Department for Education and LACA Primary School Food Acheivement Award a group of our children were invited down to Oxford to visit Raymond Blanc's award-winning Le Manoir aux Quat'saisons. Mr Backhouse and Mrs Boyce took our Food for Life Ministers (Chief, Farming, Animal and Gardening Ministers) to look at how Le Manoir grows its own organice produce, harvests it and then uses it in the Michelin star restaurant...we even got the chance to look around the exclusive hotel rooms.
More information about the restaurant can be found here.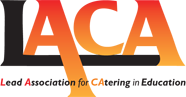 LACA's own School Caterer magazine will be writing an article about the visit - check out a preview of it here.
Chutney Day - March 2016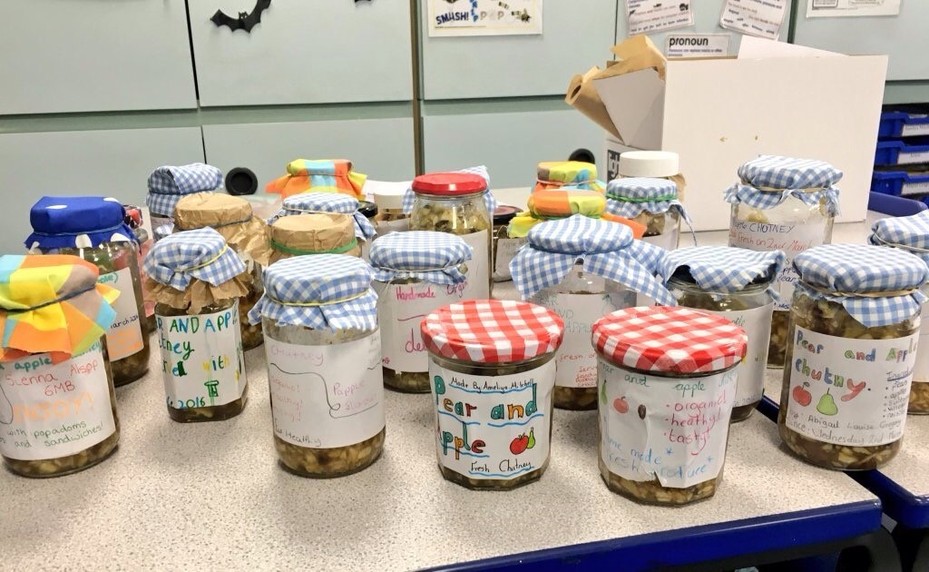 As part of our dedication as a Food for Life school to educate our pupils and parents about healthy and homemade food, our Chutney Day took place in March. The aim of the day was to create a food stuff using locally sourced and home-grown products. Our chutneys were then sold after school to the community in which recipe cards were also given out to enable parents to make the chutneys at home. Topic lessons on the day centred around teaching our children where we can source food locally and from organic sources rather than using the big brand supermarkets. For further information, and where you can purchase organic food in our area, be sure to check out the "Eating Organic" section of the website.
Eggs For Sale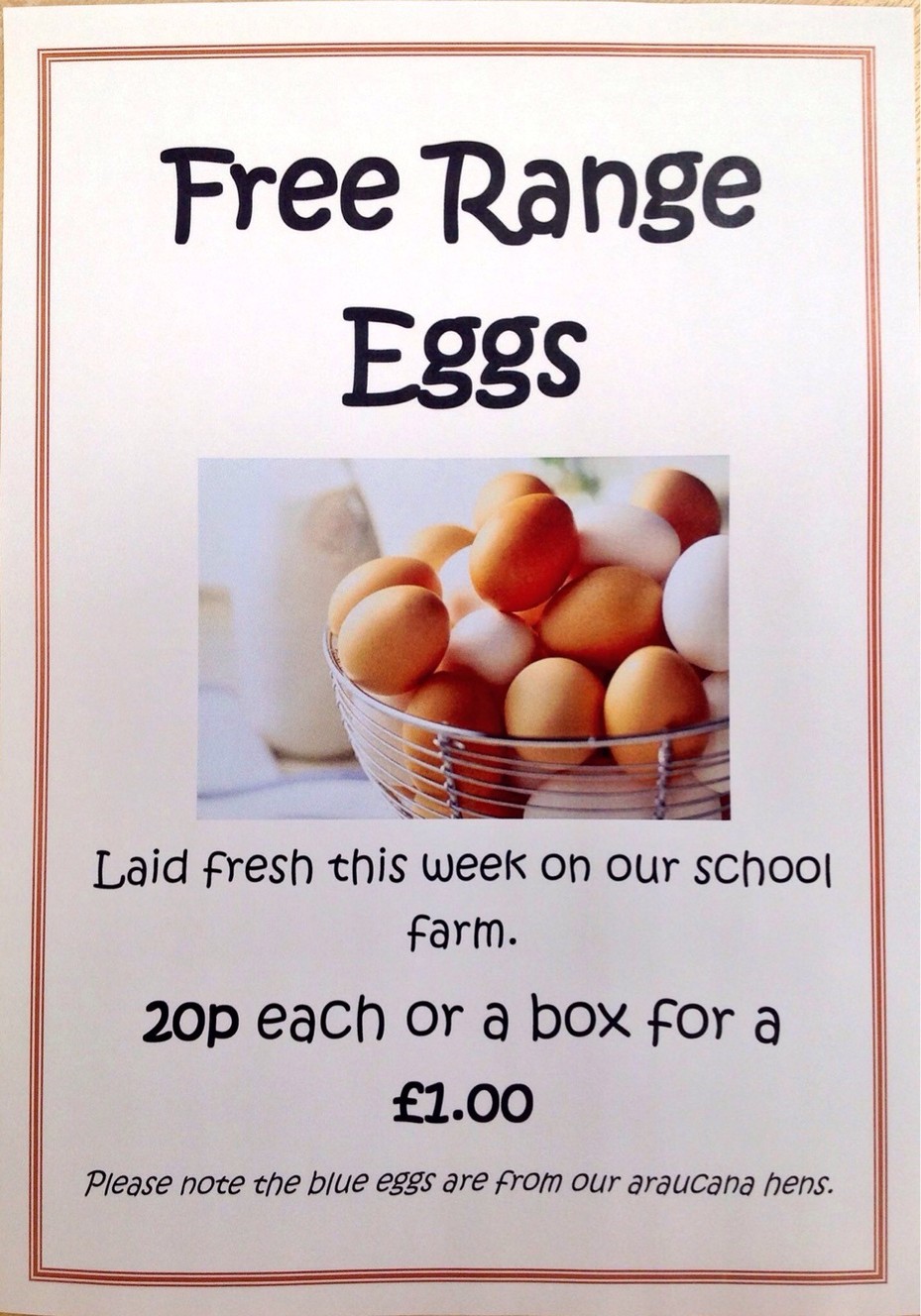 Our new free range hens are now laying a healthy supply of eggs. These will be on sale at the school office for £1.00 (for a box of six) - come and try our organic blue eggs!
Curry Night - February 2016
There was a large turn out for our Year 6 Fundraising Curry Night that took place on Friday night - thank you to all who came along. Keep an eye out for our next food themed evening on the Food for Life Key Dates page.
Our First Blue Egg Appears!
January 2016
Our new hens have started to lay eggs - check out the blue coloured eggs which our araucanas have been laying. Look out for our egg hatching coming in Easter!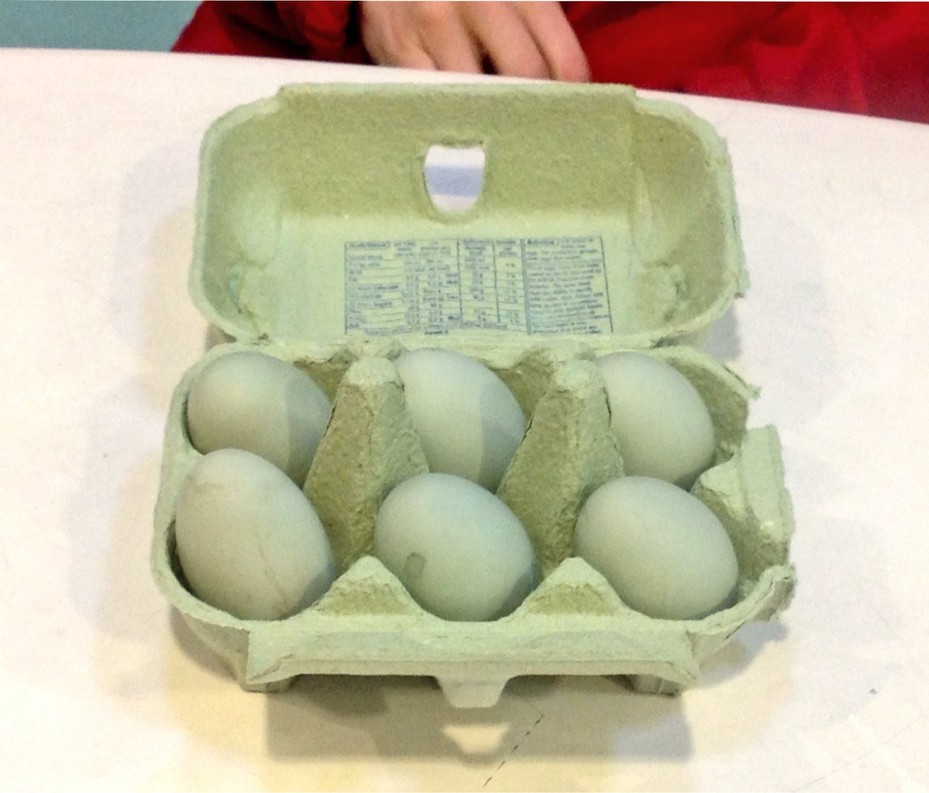 Graves Park Visit - November 2015
On Tuesday 24th November 2015, Mr Backhouse took some of the Food for Life Ministers on a visit to Graves Park to look at our new goats. Introducing our Anglo Nubian pygmy goats who are due to be with us on the 4th December.
While we were there we also purchased some new chickens: a silver laced Wyandotte, silver pencilled Wyandotte, a cuckoo maranze and an araucana - which lays blue eggs!
Year 3 Design A Lunch Competition Winner's Lunch - November 2015
As a school we are really proud of our school lunches due to the fact everything is cooked from fresh on site along with using local and own-grown ingredients. We strive for all our pupils to have a school meal rather than bringing packed lunches from home. As a way to encourage our new Year 3's to take up lunches we decided to run competition for them to design a school lunch with the winning one replacing the lunch menu for the whole school. Our head cook Gail Boyce judged the competition and decided to choose a winning main course and winning dessert.
Main Course - Italian Chicken with herb potatoes and seasonal vegetables - Edith Brennan
Dessert - Chocolate orange brownie with winter mixed berry compote - Jack Whitehouse
On the day of the meal the children were invited into the school kitchen to help the catering staff prepare and cook their meal for the whole school. The families' of the winners were invited along on the day to also try their child's menu and they sat in our lunch hall on a special table in which staff served them. As you can see from the photographs the children were thrilled with the experience. It was a wonderful lunchtime and the comments we had back from the families were extremely positive.
Family To Lunch Day - November 2015
Roast Dinner Day - November 2015
On Wednesday 4th November it was Roast Dinner Day as part of National School Meals Week (#NSMW). Our school catering team made over 380 meals for the day, which were enjoyed by pupils, parents, staff and governors, who were all invited into school to have one of our most popular dishes. Look out for more Family To Lunch Days coming up over the year.
Harvest Fruit Day - October 2015
On the 20th October 2015, we held our first annual food event of the year - our Harvest Fruit Day. Each class were given the task of creating a fruit based product which contained produce from our school gardens and orchards. They were then tasked with selling their products to raise the most money - along with designing recipe cards to educate our parents with how to make the products.
Mrs Vernon took children from each class during the week before to harvest apples, pumpkins and raspberries.
We had a range of products made including crumbles, muffins, smoothies, cakes, and fruit kebabs. Check out our photos below.
All money raised will go to future gardening projects.
Extra! Extra! Read All About It!
- our school in the Derbyshire Times (October 2015).
A primary school has won a national award for the quality of the food education it provides to pupils.
The Department for Education's 'School Food Achievement Award' was presented to Bolsover Junior School for excellence in catering and food education.
It is the first ever award of its kind and was awarded to only one primary school in the whole country.
Headteacher, Rowena Herbert, said: "We see it as paramount importance that our pupils understand where their food comes from and how the choices they make in life can impact on their health and wellbeing.
"We provide a rich, enhanced curriculum in which food is at the forefront of everything including developing our pupils skills in farming and gardening." The school provides a range of activities and events such as community lunches, gardening days, themed dinner days and 'family to lunch days' to signify the importance of food.
More can be found here.
Spanish Day 2015!
In July 2015, our school has a Spanish day celebrating all things Español! We had a Spanish Breakfast in the morning, Spanish themed lunch and then our Year 6 classes displayed work on Spanish cuisine in the hall after-school along with serving up some tasty tapas. Look out for further food events next academic year!
Bolsover Hosts Bronze Event - July 2015
As a leading flagship gold school for Food for Life we were kindly asked to host the first ever Derbyshire bronze award celebration event. We hosted as several schools from the local area were awarded their Bronze Food for Life award. During the day we held growing activities, our ministers presented tours of our school grounds to demonstrate why we are a gold flagship school and our very own Mrs Boyce presented the awards and gave a thrilling speech about her journey so far.
Well done to all schools involved! Check out the photos below.
Families To Lunch Day - July 2015
Comic Relief Bake Off!
- March 2015
During March 2015, all our classes took part in a bake off raising money for Comic Relief. Each class chose a baked product to make in school (ranging from rocky roads to flapjack to rice krispie buns) and then we sold them on a market stall in Bolsover town centre. We raised over £300 for Comic Relief!
Get Your Grown Ups Growing & Gardening Afternoon - February 2015
Y6 Families To Lunch Day - February 2015
Bolsover Picks Up Platinum!
In November 2014, the 12th Primary Catering Quality Assurance Awards were held to recognise top quality service provided to schools by our catering teams.
Teams were nominated by pupils, teachers or members of our catering service management team and then judged in action at their schools.
They were assessed on their performance including the quality of food, service, food presentation, customer care, hygiene, health and safety and kitchen management skills.
And rising to the challenge was our team at Bolsover C of E Junior School which won the overall competition to scoop the Platinum Award for Excellence.
Our school was presented with its award by Councillor Jim Coyle, our Deputy Cabinet Member for Children and Younger Adults.
Jim Coyle said,
"I am delighted to be able to honour the hard work and dedication of our talented cooks across the county.
"They provide pupils with top quality lunches which are nutritious and value for money to help them stay healthy. A good meal also helps them stay alert for their lessons in the afternoon.
"These awards highlight the high standard of food and service offered at schools and I'd like to congratulate all our winners on their well-deserved awards."
Here is Gail Boyce (left), supervisor, and caterers Tracy Dykes, Linda Reddish and Natalie Middleton celebrating winning the platinum award.
SCOTY 2014
The first place at the national final of LACA's School Chef of the Year 2014, sponsored by Maggi from Nestlé Professional, has been claimed by our very own Mrs Boyce following the East Midlands regional round. She will now go forward to the final at the Defence Foodservices School, Worthy Down in Hampshire on May 21st.
Mrs Boyce won through from the East Midlands regional final held at Wilsthorpe Community School on January 21st. Her winning dishes were a main course of Chinese Quorn Steak Cup (pan fried quorn steak in a tortilla with a sweet and sour sauce), followed by dessert of summer berry rice (sweet coconut flavoured rice dessert with a sharp berry puree & tuile biscuit). Well done Mrs Boyce!
Going For Gold!
On Wednesday 30 March, organic gardener and radio and television presenter Bob Flowerdew presented the prestigious Food for Life Partnership Awards to us. We were the first school to receive the prestigious Gold award in the East Midlands plus one of 15 schools to have excelled in transforming its food culture. Mrs Wood, Mrs Boyce plus Mrs Briggs attended the awards ceremony which took place at Aston Villa Football Club, Birmingham.