Food for Life Gold Flagship School
We are a Food for Life Gold Flagship school.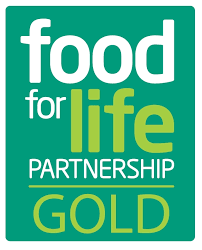 As part of this we link growing, gardening, cooking and farming into our curriculum.
Navigate the tabs at the coming off our Food for Life or click on the links below for:
KEY FfL DATES
FfL NEWS
SNAG MEETING INFORMATION & MINUTES
INFORMATION ABOUT OUR FOOD ACHIEVEMENT AWARD
Find out below about some of the things we do in school around Food for Life.
Want to know more?
If you would like to visit our Gold school then please contact either Claire Bailey (Acting head teacher) or Anna Brent (FfL Coordinator) directly at school on 01246 822324.
Why were we the first school to be awarded with the DfE School Food Achievement Award? Find out from the video we submitted for our application below:
Growing
We are very lucky to have a busy vegetable garden, an orchard and a fruit garden. We grow seasonal fruit and vegetables along with lots of delicious herbs. Mrs Boyce (our school cook) - uses the produce grown in our school dinners and cooking club. All our children are given the chance to grow food organically with Mr Moore/Mrs Vernon (our Garden Champions) taking groups our every day. Take a look at our gardening page for more information.
Cooking
Mrs Briggs and Mrs Collis (our cooking champions) teach us all how to cook as part of our work in Design Technology. We have a least one half term per school year dedicated to cooking plus the skills needed to be successful. Have a look at our curriculum map on the Curriculum Page to see what we are taught and when. We use our purpose designed Art & DT classroom (that includes a teaching kitchen) for us to develop our cooking skills. Now cooking in school is integrated into our everyday life. Throughout the year, we organise a range of food events in which every pupil in school will make something and sell during the days - we focus on educating our parents and the community about the food we create!
Our school cook - Mrs Boyce - is wonderful. Along with the kitchen staff, she cooks our lunches from scratch using organic and Farm Assured produce. We have family dining which means we eat from crockery (and not flight trays), children serve each other and we spend time chatting while we eat. Lunchtime is not a quick sandwich but a delicious meal, served on plates, that is of a gold quality standard with locally sourced meat from Hardwick Farm.
Did you know Mrs Boyce has been nominated and received credit for many awards? Check out the news section to find out more.
Farming
Within our school, we have a range of animals. We have goats, pigs, chickens and guinea pigs! The Farming Team (along with Mrs Vernon) help to care for the animals during the school day. We also have Farming Club before and after school. If you wish to look after any of our animals please contact the school office - we are always after support with the farm.
Community Events
Once a term the SNAG group (made up of staff and Food for Life related ministers) plan and hold a community food events. We are looking forward to our upcoming events. Check out what we have coming up in school by clicking here. You can also see photos from our previous events by following this link.
Want to know more?
If you would like to visit our Gold school then please contact either Claire Bailey (Acting Head Teacher) or Anna Brent (FfL Coordinator).
Bolsover Wins School Food Achievement Award 2015!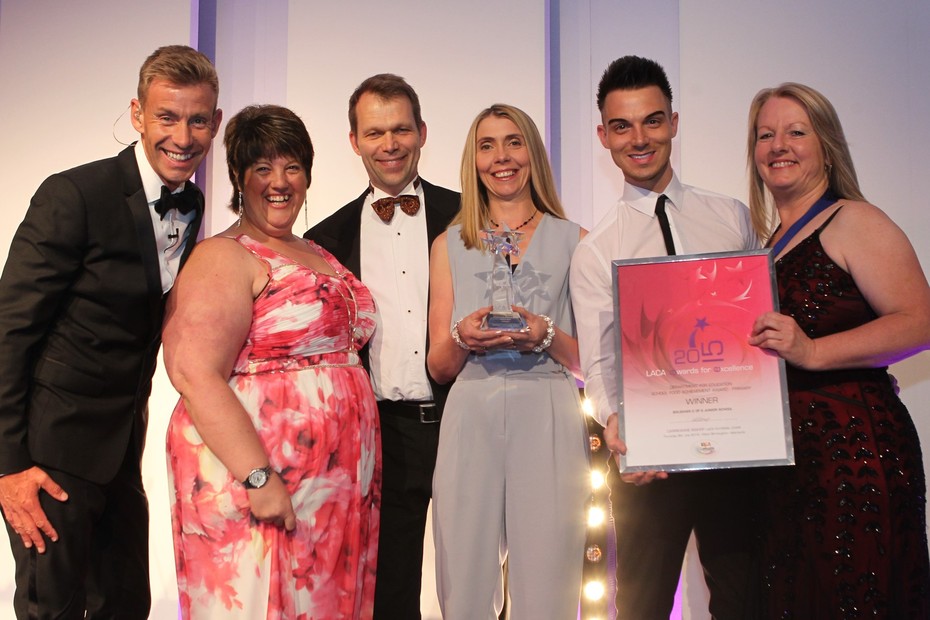 LACA Awards for Excellence 2015
Rewarding Endeavour across the Education Catering Industry
Every year the LACA Awards acknowledge individuals and teams of pe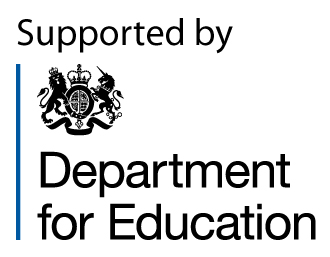 ople who continue to make a real difference in education catering. Winning a LACA Award not only boosts the confidence, morale and motivation of the whole organisation but is instrumental in changing the attitudes and influencing the actions of both parents and pupils.
The industry continues to be driven by the commitment and dedication of its workforce. Maintaining that enthusiasm, building on performance and driving greater success are the yearly challenges. With no end in sight to the austerity measures, public sector spending cuts and the increasing strain on family budgets, education caterers are facing operating circumstances that are tougher and more demanding than they have had to face, even over the last few years. Everyone is being expected to do more for less and having to look at new ways of delivering services without a reduction in quality. Despite all of these pressures and testing circumstances, they continue to maintain high standards and strive to find innovative, creative, enterprising and budget conscious initiatives, which bring about positive outcomes and solutions for their services, organisations, schools and academies.
Good management, strong performances and high achievements deserve to be recognised at any time. However, achieving successes during these particularly trying times is perhaps even more impressive. Acknowledgement of effort is particularly important to not only reward but sustain motivation. As the leading professional body for all those in the education catering industry, LACA's annual awards are highly coveted accolades.
Being nominated and selected for a LACA award by your industry peers does not only bestow a sense of prestige and honour at a personal level but it simultaneously raises to greater heights the professional reputation of the organisation or school employing Award winners. A LACA award is an invaluable promotional tool in any organisation or school's marketing armoury and speaks volumes about its high standards of customer service and care.
LACA Awards for Excellence 2015
The awards ceremony took place in July at the Birmingham Metropole in which our school won the first ever Food Achievement Award. It was new for 2015,and sponsored by the Department for Education. The 'School Food Achievement Award' was presented to the primary school that, in the opinion of the judges, has strived to achieve the most significant improvements in catering and food education taking a whole school approach. Our school had to demonstrate how we have worked to improve in all areas of food provision and food education. We showed how we have increased quality and adopted a whole-school approach to food as laid out in the School Food Plan.
Schools had to provide evidence that the strategies and plans that they have laid out focus on food quality and are increasing take up of school meals. The judges were looking for schools that have shown strengths in their approach to improving food provision and food education, addressing the following criteria:
Strong commitment and leadership by the headteacher

Excellent teamwork between catering, teaching staff, governors and suppliers

Demonstrable improvement in the quality and standards of food in the school and how this was achieved (focusing on the principles of the School Food Plan and complying with the new School Food Standards)

A plan for school food with clear and achievable objectives

Strong and creative food education programme which engages children

Improved customer satisfaction (pupil and parent)

Parent and community involvement

Creativity in school food initiatives

Taking a whole school approach to food

Testimonials from school caterers, head teachers, teaching staff, pupils, parents and community leaders are expected.
The categories were boosted this year by the inclusion of two new awards backed by the Department for Education (DfE) that celebrate school food achievement
Thom Crabbe from the School Food Unit at the DfE congratulated the inaugural winners – Bolsover C of E Junior School in the primary section – and praised the very high standards achieved by our school.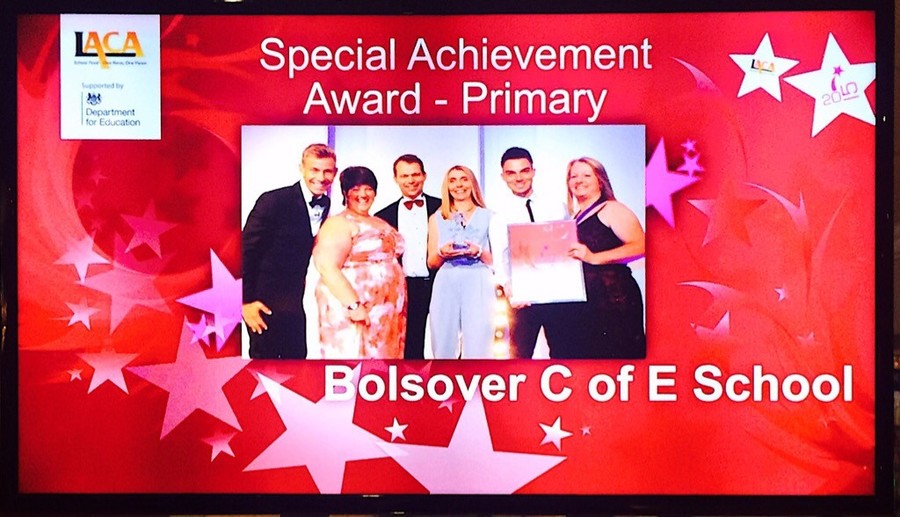 Here you can find our entry video for the award:
Click below to see the video of when the cooking bus came to school.