Computing at Bolsover
.To understand and change the world.
.
Technology - an integral part of everyday life.
Subject Intent
Computing at Bolsover addresses the challenges and opportunities offered by the technologically rich world in which we live.
Computing is implemented through both discrete and cross-curricular teaching with content that is relevant and purposeful.
Our aim is to always teach skills which the children can apply beyond Bolsover and so computing is taught through meaningful real-life contexts. Computing has deep links with Maths, Science and Design Technology and provides insights into both natural and artificial systems. The core of computing is computer science, in which pupils are taught the principles of information and computation, how digital systems work, and how to put this knowledge to use through programming. Building on this knowledge and understanding, pupils are equipped to use information technology to create programs, systems and a range of content.
Computing also ensures that pupils become digitally literate – able to use, and express themselves and develop their ideas through, information and communication technology – at a level suitable for the future workplace and as active participants in a digital world.
Subject Co-ordinator
The subject co-ordinator for computing in school is Mrs Claire Bailey, who can be contacted on 01246 822324, or via our school email at info@bolsover-jun.derbyshire.sch.uk. Our Computing and Online Safety nominated governor is Mrs Sarah Tew who can be contacted via the same contacts above.
The National Curriculum Aims
The National Curriculum for Computing aims to ensure that all pupils:
can understand and apply the fundamental principles and concepts of computer science, including abstraction, logic, algorithms and data representation

can analyse problems in computational terms, and have repeated practical experience of writing computer programs in order to solve such problems

can evaluate and apply information technology, including new or unfamiliar technologies, analytically to solve problems

are responsible, competent, confident and creative users of information and communication technology.
For further information, check out the National Curriculum programmes of study for computing at Key Stage 2 here.
Subject Policies & Guidance
Teaching Online Safety In Schools
Subject Overview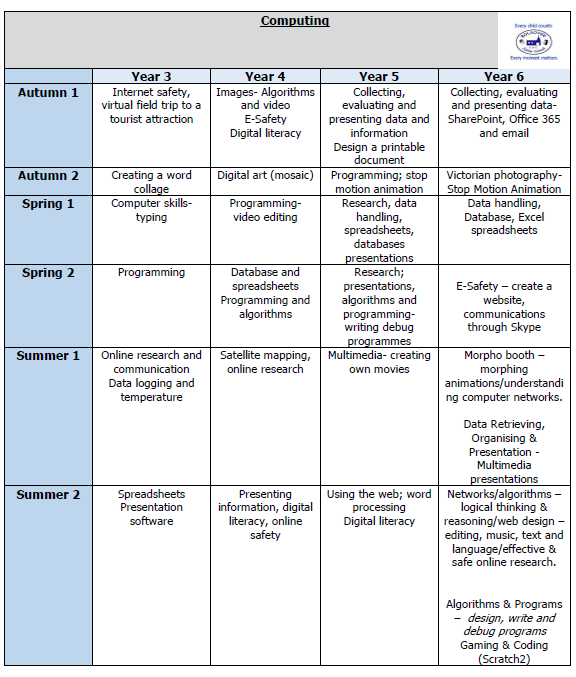 Progression of Skills
What do the progression in skills for Computing look like?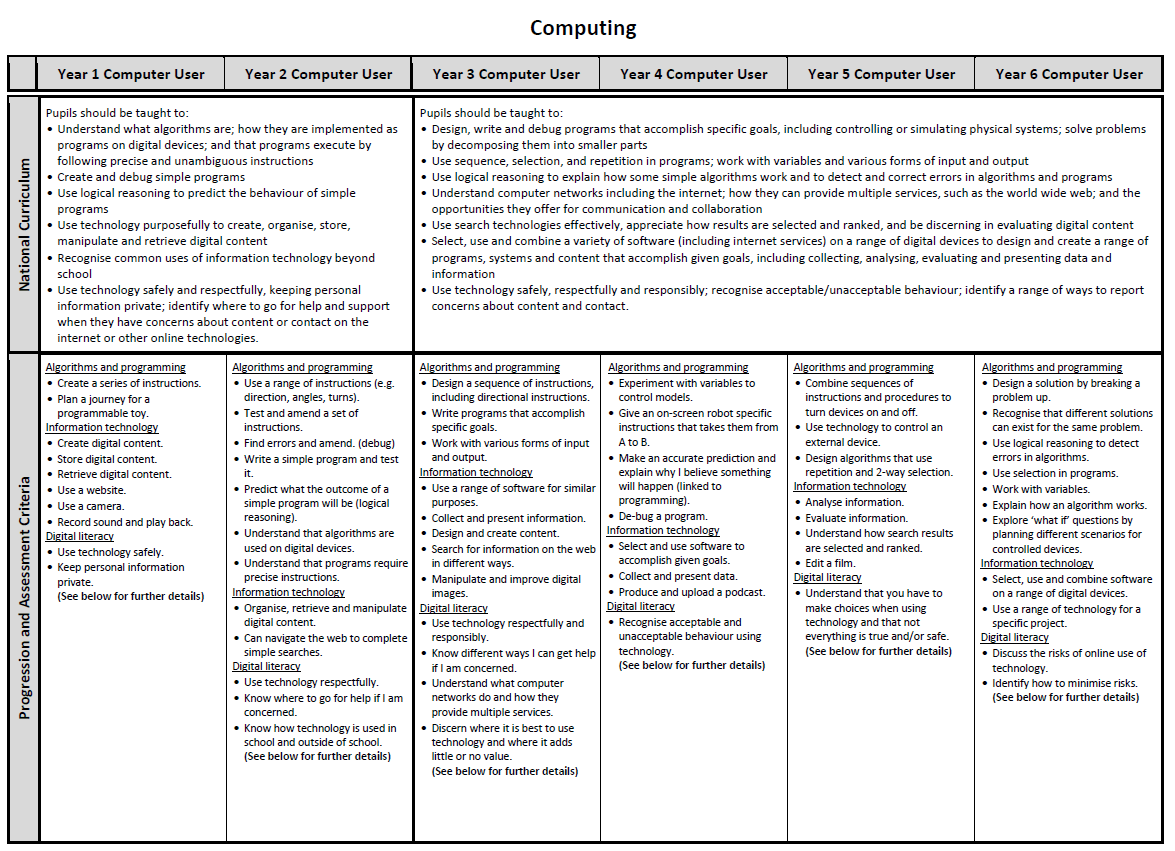 Assessment in Computing
The teaching of Computing, in all year groups, is incorporated within daily lessons alongside a skills based lesson every week. Assessment of pupil progress in Computing aims to assist pupils in understanding their own progress, aid teachers with their planning, as well as informing the school's monitoring of progression and attainment. Therefore, children should assess their work in accordance with the school's policy for self-assessment as they would do for any other written work. Teachers should ensure that children strive to meet the skills, whilst also building up their knowledge and understanding of computing, inclusive of knowledge of unplugged learning and key vocabulary.
The assessments made throughout the academic year are recorded and used to inform the end of year reports to parents/guardians. The co-ordinator, with support from the Senior Leadership team, will also carry out annual computing drop ins, work scrutinise, evaluations of lesson planning, conducting pupil interviews, discussions with pupils, staff and parents as well as carrying out formal lesson observations.
Careers in Computing
Careers in computing continue to grow and many resources that we use to help in work will be technology driven. Our pupils will enter employment which is dominated by exciting levels of technological innovation and change.
The teaching and learning of computing supports careers, such as:
Web Developer

Web Designer

Software Engineer

Video Game Designer

Technology Manager

Forensic Computer Analyst

IT Consultant

Mobile Application Developer

Data Analyst

IT Security

Game Developer
Useful links and websites for Computing
BBC Bitesize - Computer Science
BBC Bitesize - Digital Literacy
BBC Bitesize - Information Technology
Programming, Coding & Algorithms - Raspberry Pi
Gallery - Evidence In School